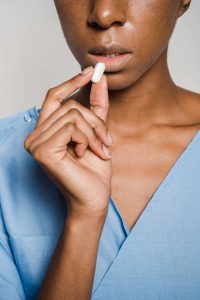 A medical abortion, the process of ending a pregnancy via pharmaceuticals, is often considered the safest and easiest way to have an abortion. However, there are still a lot of side effects and risks you should be aware of before you can confidently make a decision about your unplanned pregnancy. 
How is a Medical Abortion Performed?
Most medical abortions happen as a result of blocking the hormone progesterone and thus thinning the uterus. The most common medical abortive is oral mifepristone and oral misoprostol, which are both usually taken within seven weeks of your last period. 
This medication can also be administered up to nine weeks after your last period if you use other versions of this medication that are taken vaginally or slowly dissolved orally.
Methotrexate, another medical abortive, is most often used to terminate an ectopic pregnancy and given in a shot or vaginally. According to Mayo clinic, it can take up to a month for methotrexate to complete the abortion. 
What Are the Side Effects of a Medical Abortion?
You may have more symptoms the farther along you are in that first trimester. You can expect to have vaginal bleeding, nausea, fever, chills, headache, abdominal pain, diarrhea, and vomiting. 
In some cases, infection will require antibiotics. Your pain may be severe enough to require bed rest or limit your normal activities. 
There is also the risk of an incomplete abortion, which would be diagnosed by ultrasound and additional pregnancy tests. You would likely need surgical intervention to remove the remaining tissue. 
You also may suffer from some emotional and psychological side effects like fear and anxiety. 
Get Support Today
If you are struggling to cope with your pregnancy or considering medical abortion, please contact our center to talk to a specialist who can walk you through your potential next steps and offer some peace of mind. You are not alone in this journey! 
At Pathways Pregnancy Resource Center, we care about you, and offer the no-cost pregnancy services and support you need right now. We can help.