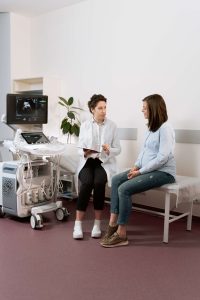 If you are looking into the option of an abortion, it may seem convenient, but it comes with its own side effects like any other medical procedure. 
Read the rest of this article so you can make a more informed decision about your pregnancy. 
How Does the Abortion Pill Work?
The abortion pill actually consists of a regimen of two different drugs. The first is mifepristone, which you will take at the doctor's office, which works as a blocker for the hormone progesterone, so the pregnancy stops growing.
Now that the pregnancy has ended, the second drug, misoprostol, taken within 24-48 hours, will force the uterus to contract so your womb will expel the pregnancy tissue.
What Are the Risks of an Abortion Pill?
According to the Mayo Clinic, potential risks of medical abortion include:
Incomplete abortion, which may need to be followed by surgical abortion

An ongoing unwanted pregnancy if the procedure doesn't work

Heavy and prolonged bleeding

Infection

Fever

Digestive system discomfort
In the event you're experiencing the above symptoms, it's important that you have access to emergency medical care if taking the abortion pill.
What Are the Side-Effects of the Abortion Pill? 
The most common side effects of a medical abortion are vaginal bleeding and abdominal cramping. However, other symptoms may also include:
Nausea

Vomiting

Fever

Chills

Diarrhea

Headache
How Do I Know If I'm Eligible for the Abortion Pill?
The abortion pill is only available for pregnancies are up to 10 weeks (70 days) gestation, so it's important to make sure you confirm the age of your pregnancy with an ultrasound. 
At Pathways Pregnancy Resource Center, we offer no-cost ultrasounds that can give you this information as well as identify potential health complications, such as an ectopic pregnancy. 
Up to 20% of known pregnancies end in a miscarriage, so an ultrasound can also identify if the pregnancy is still viable. Even if your pregnancy test reads positive, it can take several days before your body knows that the pregnancy has ended.
Contact us today to schedule your appointment for free pregnancy testing and an ultrasound!